Bio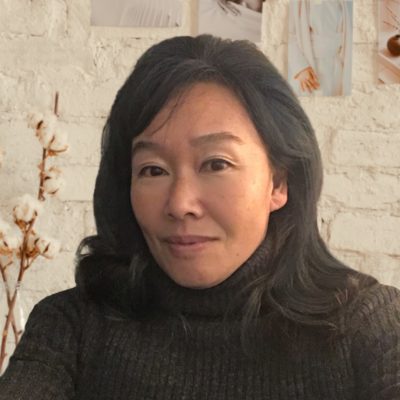 Tamao Nakayama was born and raised in Tokyo, Japan, and moved to the U.S. when she was 25 years old. She is still deeply influenced by the Japanese aesthetic, and the belief that 'less is more'. She is a minimalist abstract artist. She paints and sculpts. She learned art at Santa Rosa College and Palomar College in California. She currently works from Woodbridge, VA. She had exhibited her painting in Hypotheses, Target Gallery, Alexandria, VA.
Statement
As a girl growing up in Japan, I found it's hard to be creative, as the culture was very strict about following rules. We all had to conform, and being different was a problem. I'll never forget when, in school one day, my teacher painted my hair black because it's natural color wasn't acceptable. 
Thus at a young age I came to America to be creative, and stayed. Ironically I've found that what Americans like most about my art comes directly from my culture. The Japanese believe that "just because you want to communicate doesn't mean you should say everything out loud". And despite my flight from Japan, it is this sentiment which still informs my artistic style.  I try to communicate emotion using a minimum of lines and shapes. I say only that which must be said, and nothing more. Though I've run far from Japan, perhaps I am still just writing Haiku.
My signature sculptures are tubular 'beings', minimal figures that appear to express their own emotions. Some tell a story, some make people smile; all are playful and  emotionally engaging. The textures and colors are contemporary, yet soft and warm.
I also create two-dimensional art. My most recent experiments have been very large prints of very small paintings. I let paint mix on a tiny surface, then digitize the microscopic textures and expand them into large, colorful compositions. These can then be printed on a variety of media including canvas, transparent film, and fabric.
All in all, my art offers quiet joy at a time when most of us are heavily burdened by stress.
Resume Overview
| | |
| --- | --- |
| Selected Commissions |   |
| Public Art Commission, KPWB Bus Shelter Beautification | Aug. 2022 |
| Selected Exhibitions |   |
| (group exhibition) The Open Space Arts Gallery, Woodbridge VA | May 2022 |
| (group exhibition) Hypotheses, Target Gallery, Alexandria, VA | Oct. 2021 |
| Collections |   |
| Potomac and Rappahannock Transportation Commission | Aug. 2022 |
| Publications And Reviews |   |
| Prince William Living / Fox 5 Washington DC | Aug. 2022 |
| Podcast Interview By The Trust In This Art, Baltimore, VA | Jun. 2022 |
| Torpedo Factory Art Center, Exhibition Catalog, Target Gallery, Hypotheses, Target Gallery Artist Spotlight, Alexandria, VA  | Oct. 2021 |
| Work History |   |
| Assistant Designer, The Secret Garden Landscaping, Assistant Designer/Drafter, Sicola (Furniture Design), Drafter, Ergo Design Works (Interior Design), Intern Drafter, Design X (Architecture), Intern Designer, Ilan Dei Studio (Home Accessories and Furniture), Los Angeles, CA | 2005-2010 |
| Recognition And Awards |   |
| Rochester Institute of Technology Trustee scholarship, Rochester Institute of Technology Grant, Savannah College of Art and Design Artist Merit Scholarship, California College of Arts Scholarship  | 2004 |
| Education |   |
| Art Major, Palomar College, CA | 2004-2005 |
| Art Major, Ceramic Minor, Santa Rosa Junior College, CA | 2001-2003 |