"Clean Communities, Clean Waterways"
My design for the Town of Dumfries celebrates the town's commitment to keeping its waterways and community clean. 
The design is meant to be fun and friendly for people of all ages, and will hopefully impress upon children the strong connection between healthy waterways and healthy communities.
See the links: Keep Prince William Beautiful
OmniRide
The title of the artwork is "Seven Animals On A Path To The River". I created artwork for OmniRide and the non-profit organization, KPWB for their Bus Shelter Beautification Project. The theme was "Preserving the beauty of nature and wildlife for our future generations." The shelter is across from a school, so I designed something colorful and joyful for kids. I hid small animals in a colorful forest, so children can have fun finding them. See: Keep Prince William Beautiful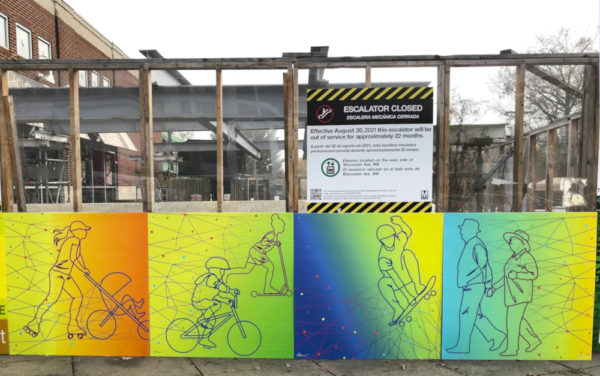 The work is titled, "Community In Motion", and was printed on vinyl from a digital design. I created a public work for the Metropolitan Area Transit Authority and Tenleytown Main Street public art. The city needed to hide and beautify the ongoing construction at the site, so I created a design that celebrates the healthy and active community that has grown up around Tenleytown. I also coordinated with the town to give them the colors that they thought would be most visible to motorists. Please see: https://www.wmata.com/initiatives/art-in-transit/ait-tenleytown.cfm
Contemporary minimalist figure sculptures for hospitals, corporate buildings, government property, etc.
Storytelling sculptures for playgrounds, schools, libraries, educational facilities, etc.
Abstract sculptures for malls, airports, stations, etc.
Nature motif artworks for train stations, bus shelters, facility walls, etc.