WEAR ART NOT TRENDS
Look As Unique On The Outside As You Are On The Inside. Earthy Accessories From A Small Studio. Reach Your Zen. Explore the timeless wisdom of wabi-sabi in wearable art by a Japanese artist.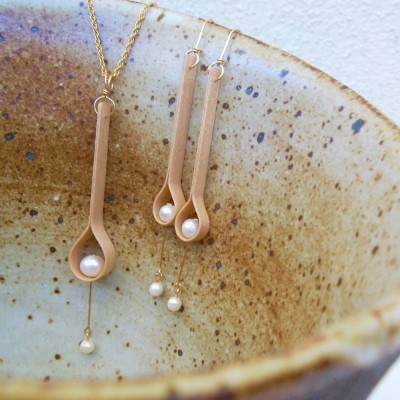 Capture The Peace Of Dawn With The Shizuku-Dewdrop
This exquisite jewelry is designed and crafted by Japanese artisan. Cultured pearls dangle from a natural wood setting, glowing like dewdrops in the quiet dawn. This original handmade jewelry will help you to find your own inner peace.
Make Big Waves With Little Ripples
The artist made jewelry inspired by small ripples in a quiet lake. Wood and semi-precious stones or shells and peals were used to create this wearable art. Designed by a Japanese artisan, these incredible earrings bring an air of sophistication wherever you go.
The artist captures subtle colors that she misses from home. She has layered washi paper to re-create the colors of moss, cherry-blossoms, sky, snow, and charcoal. Placed inside each earring is a pearl that reflects the colors around it. They are sold singly by the earring. You can mix and match shapes, colors, and lengths, so have fun creating whatever playful look you want.