Tsukimi and Niiname-no-Matsuri - Japanese Thanksgiving
The Japanese have a long tradition of celebrations honoring the moon which are governed by the cycles of the lunar calendar. While Japan doesn't celebrate Thanksgiving in precisely the same way as we do here in the states, festivals and events occur throughout the country for the whole fall to celebrate and appreciate the harvest.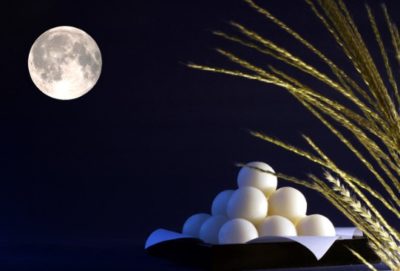 Tsukimi, which means literally, "moon-viewing", are Japanese festivals honoring the autumn moon, as the time of year most favorable for harvesting. The celebration of the full moon usually falls on the 15th day of the eighth month, and the waxing moon is celebrated on the 13th day of the ninth month of the traditional Japanese calendar. These days normally fall in September and October of the solar calendar. On both nights it is traditional to gather outside and decorate the surroundings with Japanese pampas grass, and to serve white rice dumplings, taro, edamame, chestnuts and other seasonal foods including sake.
Additionally, sweet potatoes are offered to the full moon, while beans or chestnuts are offered to the waxing moon as part of prayers for an abundant harvest.
On November 23rd, the Japaneses also observe Labor Thanksgiving Day, a National holiday for commemorating labor and production and giving one another thanks.The Niiname-sai,  a Japanese harvest ritual, is celebrated by the Emperor of Japan, who thanks the Shinto deities for a prosperous year and prays for a fruitful new year. It has roots in an ancient Shinto harvest ceremony.
One year ago this month, we started the pre-launch of the Art de Tama studio on Indiegogo. Grateful and inspired by the success of our first campaign, we have worked the year-round to develop our vision of, "wearable art" and the positive influence we know it can impart. We appreciate you and thank you our audience for your invaluable support and community, for letting us introduce you to Japanese aesthetic, and for being a part of our small studio's journey.
"Happy Thanksgiving", from Art De Tama.
The Japanese artisan creates very original, quiet, minimalist jewelry. Find wearable art that bring you inner peace and calmness!