For thousands of years, the people of ancient Japan created beautiful jewelry. The earliest pieces were earrings, bracelets, and pendants. Sometimes painted red, they were fashioned of clay, stone, ivory and amber. Later came necklaces of claw-shaped beads, separated by jade spacers, and long dangling earrings of lacey gold. By 500AD the love of jewelry seemed an inexorable part of Japanese culture.
But a thousand years later a Portuguese missionary discovered a very different Japan. His name was Luís Fróis, and in his letters back to Europe he reported that the Japanese wore no jewelry at all. Where did it all go?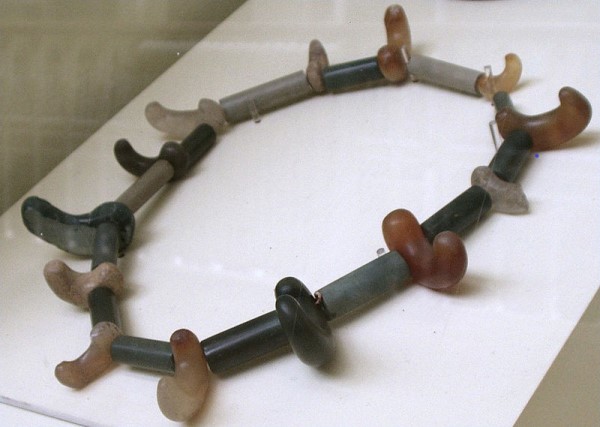 消えた勾玉の首飾り。
日本古代のファッション・ミステリー。
何千年もの間、古代の日本の人々は美しい
装飾品を作りました。最も初期のものは、
イヤリング、ブレスレット、ペンダントで、
時には赤く塗られ、粘土、石、象牙や
コハクで作られていました。
その後、ヒスイを合間に付けた、ひづめの形の
ビーズのネックレスや、長く垂れ下がる
スタイルの金のレースのイヤリングが現れました。
西暦 500年までは、装飾品に対する
日本文化の敬愛は、確かなものように思われました。
しかし、1000年後、ポルトガルの宣教師は
非常に異なる日本の姿を発見しています。
宣教師のルイス・フロイスは、ヨーロッパに
返信した手紙の中で、日本人は、まったく
宝石を身に着けていないと報告しています。
日本の宝石は、一体どこに
行ってしまったのでしょう?
Some think the jewelry went extinct because of a new obsession with clothing. In the 600s, the Japanese people began to use specific colors and styles of clothing to designate their social rank. So it could be that Jewelry simply became unnecessary as a symbol of status. Additionally, kimonos became so ornate and layered that there was barely any skin left available for ornamentation. The women carried up to 20lbs of fabric with them each day, and may have just decided enough was enough. 
But others think the disappearance of jewelry had less to do with people, and more to do with the Gods. In the mid 600s there was a battle for religious supremacy, and a new sect came to power. After taking control, they decreed that there were eleven categories of jewelry, ten of those belonging to the Gods, and the last belonging to the emperor. So perhaps in an epic offering, Japan gave away its jewelry to the Gods.
衣服に重きを置く文化が新たに始まったため、
装飾品が絶滅したと考える人もいます。
西暦600年代には、日本人は特定の色やスタイルの
衣服を使用して社会的ランクを指定し始めました。
そのため、単に宝石が階級を表すためのシンボル
としての必要性を失った可能性があります。
さらに、着物は非常に華やかで層状になり、
装飾するだけの肌は、もうほとんど外に表れて
いませんでした。女性は、毎日、
最大9kgもの布地を着て歩いており、
それで、もう十分だと判断したかもしれません。
しかし、宝石類の消失は人が理由ではなく、
実は、神との関係性が高いと考える人もいます。
西暦600年代半ばには、宗教的優位をめぐる
戦いがあり、新しい宗派が権力を握りました。
制御を取得した後、彼らは宝石類には
11種類のカテゴリーがあることを定め、
神が、10種類の宝石を所有するものとし、
最後の一つを、天皇が所有すると定めました。
それで、恐らく日本人は壮大な供え物として、
宝石を神様に贈ったのでしょう。
No one knows for sure why the Japanese gave up their jewelry. All we know is that for a thousand years they decided to take a break from adorning their skin. Not until the late 1800s, when Japan abruptly came under Western influence, did the Japanese rediscover earrings and bracelets and necklaces. Then, once again, they began creating beautiful jewelry, as if picking up where they'd left off with a very old friend.
日本人が、装飾品をあきらめた本当の理由は、
誰にもわかりません。知られているのは、
千年もの間、日本人が肌に装飾品を
つけることを止めたということです。
1800年代後半、突然、日本が西洋の影響を
受けるまで、日本人は身につける装飾品を
作ろうとはしませんでした。
その後、日本人は、あたかも懐かしい
記憶を思い出したかのように、
美しい装飾品を再び作り始めました。
Japanese artist in the United States. Tamao Nakayama was born and raised in Tokyo, Japan, and moved to the U.S. when she was 25 years old. She is still deeply influenced by the Japanese aesthetic, and the belief that 'less is more'. She is a minimalist abstract artist. She paints and sculpts.