In ancient Japan, cloth was a precious and scarce commodity that had to be spun, woven, and dyed by hand. Regular mending was more than a way to preserve a favorite piece of clothing, or save a few dollars,  it was a necessity of survival. The Boro technique of the lower classes utilized the intricate geometric patterns of Sashiko; which means literally, "little stabs", to quilt two or more pieces of clothing together, covering holes and reinforcing worn areas. The mending made the clothes warmer and stronger in the process, and once they became too worn, items could be repurposed into bags or aprons using the same quilting technique.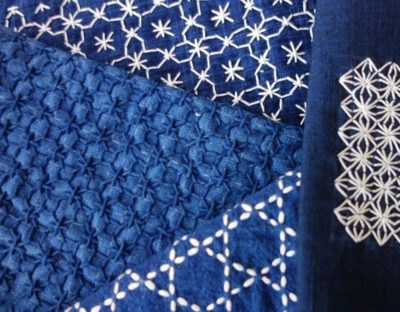 The traditional blue cloth and off-white threads, like the Sashiko stitches themselves, were born of economic and also political necessity. Most of the fabrics of the poor were made from linen and hemp which are difficult to dye unless you use indigo, and laws of the era prohibited those of lower station to wear finer fabrics or bright colors.
Fast forward several centuries, past the industrialization of textile, and today's Sashiko, once born of the timeless mother-of-necessity,  can be employed as an organically beautiful technique for adding a uniquely personal statement to your hand-made wardrobe.
Japanese artist in the United States. Tamao Nakayama was born and raised in Tokyo, Japan, and moved to the U.S. when she was 25 years old. She is still deeply influenced by the Japanese aesthetic, and the belief that 'less is more'. She is a minimalist abstract artist. She paints and sculpts.