If you've ever visited a shop that caters to the Japanese, you've probably seen products decorated with patterns called wagara. These patterns are traditional, ancient, and like the Japanese culture itself, neat and orderly. Each design has a special meaning.
小さく美しい伝統和柄に秘められた、
秩序とカオスのジレンマの物語り。
和雑貨などを置いているお店を訪れたことがある方ならば、
おそらく、伝統和柄の製品を目にしたことがあると思います。
和柄の各デザインには特別な意味があり、
古代から日本にある伝統的な模様で、
日本の文化そのものと同様に、
秩序正しく整っている模様なのです。

One pattern, called Karakusa, was invented in the 800's. The design was supposed to bring great prosperity, but became a favorite cloth of thieves who used it to wrap their loot after they ransacked a home. So the pattern did bring prosperity, it just wasn't obvious whose.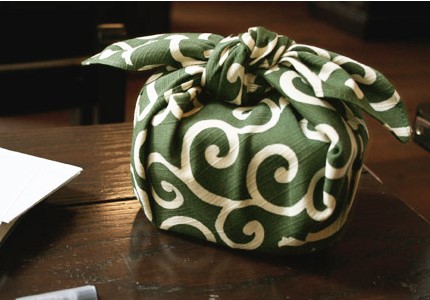 和柄の一つに西暦800年代に発明された
「唐草」と言う模様があります。

このデザインは、大きな繁栄をもたらすことを
意味するデザインのはずでしたが、
泥棒が略奪した戦利品を包むために
使用する際の風呂敷の模様として有名になってしまい、
繁栄をもたす模様に間違いはないものの、
誰のために繁栄をもたらすのかが
定かではなくなってしまいました。

Another popular pattern, Yagasuri, depicts the feathers at the ends of arrows that keep them flying in a straight line. It is common for children to wear this design at graduation, the idea being that the children will go out into the world and stay there. Like a straight-flying arrow, they'll never return. Yet recently, so many children are returning home that the Japanese have coined a new term which means "parasitic single child".
The universe seems uninterested in following the directions clearly put forth by the Japanese in patterns and textiles. This is especially frustrating for a people who, as a rule, prefer order to chaos.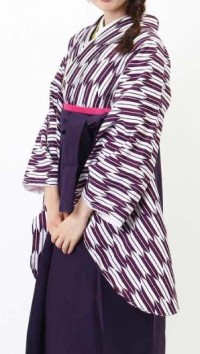 矢絣も人気のある柄の一つです。
この和柄は、弓矢の羽模様のことで、
矢が真っすぐに飛んでいることを示しています。
学生が卒業式に、この柄の着物を着ることは一般的です。
子供が広い世界へ羽ばたいていき、決して戻らず、
まっすぐに進んでいくと言う意味合いの矢絣は
卒業式にぴったりの柄です。
しかし、皮肉にも近年の日本では、
学校を卒業しても親と同居し、
生活基盤を親に依存する未婚者が増加しています。
「パラサイト・シングル」という新用語までも生まれました。
世の中では、和柄の模様や織物が意図するようには、
なかなか物事が進まないようです。
これは、カオスよりも規則や秩序を重んじる日本人を
とてもイライラさせるに違いありません。

At one point they gave in and tried to embrace the chaos with a pattern whose symbols meant "We are chilled out!" But their hearts weren't in it, and soon another pattern appeared whose symbols meant "We are NOT chilled out." And that's where things still stand today, proof being that the current owners of the pattern for "We are chilled out" will sue you for trademark infringement if you copy their pattern. 
ある時、日本人はとうとう「構わぬ」
(規則など気にするか!)という模様を作り出しました。
しかし、それほど気持ちが入っていなかったせいか、
すぐ後に、それを打ち消すかのように「構います」
(規則を守らんか!)という模様が登場しました。

これは、規則など気にするかと言っている
「構わぬ」の作者でさえ、
誰かが勝手にデザインをコピーしようものなら、
「訴えますよ、規則を守ってください。」
という証拠なのではないでしょうか。

…というわけで、日本人はまだカオス(無秩序)を
本当の意味で受け入れていません。
今のところ、日本特有の丁寧な対応で
傍観するにとどまっているように思えます。

その一方、和柄は非常に美しく、
毎日さらに多くの模様が発明されています。

その多くは、幸運と長寿を意図してデザインされており、
もっと多くの人達が和柄を身に着けることで、
おそらく世界もその願いに耳を傾け始めることでしょう。
So the Japanese have yet to embrace chaos. They say hello to chaos and try to remain polite around it, but that's as far as it goes.
Meanwhile the patterns are very pretty, and more are invented every day. Many come with promises of good luck and long life, and if more of us wear them maybe the universe will start to listen. 
The Japanese artisan creates very original, quiet, minimalist jewelry. Find wearable art that bring you inner peace and calmness!
Japanese artist in the United States. Tamao Nakayama was born and raised in Tokyo, Japan, and moved to the U.S. when she was 25 years old. She is still deeply influenced by the Japanese aesthetic, and the belief that 'less is more'. She is a minimalist abstract artist. She paints and sculpts.